Please browse our used compressor equipment we currently have in stock. These compressors have been serviced and maintained by the professionals here at Main Air Power Inc. We are always here to help so please feel free to call us with any question you may have on the products below.
Note: Stock can change daily — please call for availability. Quincy Climate Control
Duplex Climate Control Model 210, 1HP, 460/3/60, 4.12 CFM Each at 80 PSIG, Duplex Control Panel, 60 gallon Horizontal Tank, Year Built 1992
Quantity: 1
Price: Call for Price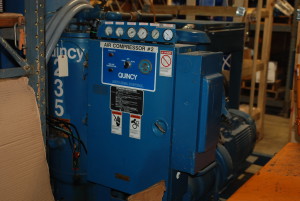 Quincy Rotary Screw Compressor
QSI-235, 60HP, 460-3-60, 232 CFM at 125 PSIG, (Converted from water-cooled to air-cooled with vertical air flow). No Enclosure, Year built 1989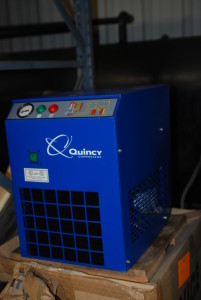 Quincy Refrigerated Dryer
QPNC-50, 50 CFM, at 100 PSIG, Max. 232 PSIG, R134A, 115-1-60, 1/2″NPT. Year Built 2008. Like New Condition. Used QGV-50
Used QGV-50, Variable Speed Drive, 50HP, 460/3/60, 243 CFM at 100 PSIG, 2007, 56,606 Hrs, Airend Rebuild at Quincy Factory less than 10,000 Hrs Ago. Air-Cooled, Sound Enclosure 70 dBA, Soild State Reduced Voltage Starter, Line Reactor, Siemens Controller. New Synthetic Oil/AF/OF/AOS.